Young Adults
The OLG Young Adult Group is a lively, spiritual, fun group of 20 to 40 year olds who coordinate many different events throughout the parish each year. Our vision is to enrich the lives of other young adults through various social and faith-based activities and to give back to the community through service initiatives. Our mission is to provide fellowship to other young adults, develop strong relationships within the community, and advocate faith and charity.
If you are between the ages of 20 to 40, we encourage you to come out, make new friends, and give back to the community! Please email Andy Fellows, our Pastoral Associate, at This email address is being protected from spambots. You need JavaScript enabled to view it. or check out our Young Adults Facebook Group for additional information.
Our Fall 2022 schedule of Young Adult events is here!
Here is a sample of some of the popular events that our group hosts and/or assists with during the year:
Annual Senior Citizens Prom
Our Annual Senior Citizens Prom is held each year in the fall. We invite those men and women in the community who are 65 years of age and older to come out for a fun evening of food, dancing, and fantastic fun!! In addition ... there is a 50-50 raffle where some great prizes can be won! We also are always looking for volunteers to help obtain sponsors, make flyers, setup, serve, and clean-up the event.

Theology on Tap
Theology on Tap is the name for a series of spiritual discussions hosted at venues that serve "spirits." Come out to discuss various theological topics present in society and have a drink or two in the process. Please check our Young Adults Facebook Group to find out when and where these sessions will be held.

Annual Pancake Breakfast
The Annual Pancake Breakfast is a great time to come together and celebrate the season of Lent. There are two Sunday morning seatings, one at 10:00 a.m. and one at 11:30 a.m. (both times immediately following Sunday morning Mass). Pancakes, sausages, eggs, and potatoes will be served hot off the griddle! We also need volunteers to help setup the day before as well as staff the event.

Spaghettiaoke
Spaghetti? Karaoke? Who doesn't love both of these things? How about if you were to put them together and throw in some of Graziella's Gravies to get: Spaghettiaoke and Graziella's Gravies – an awesome evening of food, fun, and friends! This Saturday night event consists of a spaghetti dinner, karaoke, and a homemade gravy contest. The cash bar is flowing and the music is going from 6 to 9 pm in the Our Lady of Grace Parish Hall. Calling all cooks! Donate a pot of your homemade gravy for a chance to enter in Graziella's Gravies contest and walk away with some great prizes.
The Young Adults Group is also looking for volunteers to help with ticket sales, setup, serving, and clean up after the event. We hope to see you there and make sure to bring your appetite! Ciao!

Summer Retreat
Every year, the OLG Young Adults enjoy some spiritual fellowship at our summer retreat at the beautiful Stella Maris Retreat Center in Long Branch, NJ.

Winter Retreat
The OLG Young Adults also hosted a winter retreat where they enjoyed some spiritual fellowship with the Religious Teachers Filippini at the beautiful Villa Walsh in Morristown.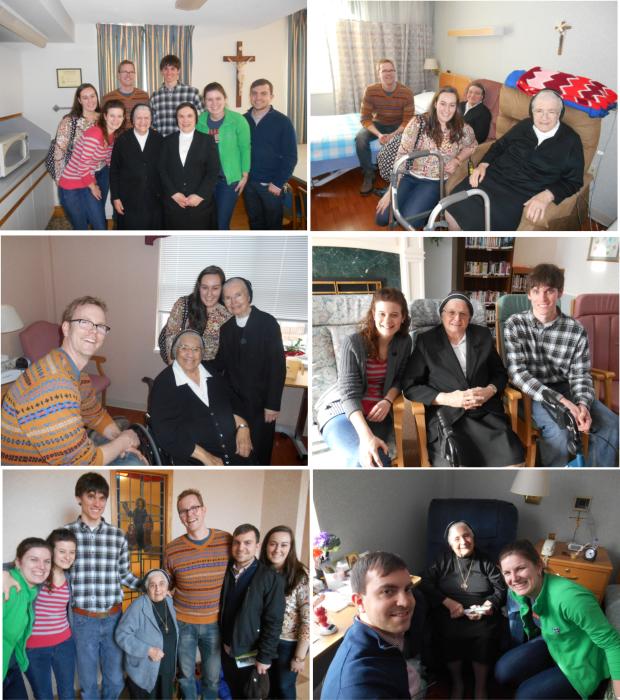 Other Fun Events
Some of the other great events we have throughout the year include potluck meetings, happy hours at some of Hoboken's best bars, and Lenten Prayer Meetings.
Check us out! What's the best way to stay informed of all these great events? Please email Andy Fellows, our Pastoral Associate, at This email address is being protected from spambots. You need JavaScript enabled to view it. or check out our Young Adults Facebook Group for additional information!